Major Construction Starts on U.S. 1, Street Road Ramps
Crews completed shoulder paving, median removal and other preparations for a traffic shift in early February that signals the start of three years of construction to replace three bridges, and widen and improve a mile-long section of U.S. 1 and the ramps to and from Route 132 (Street Road) in Bensalem Township, Bucks County.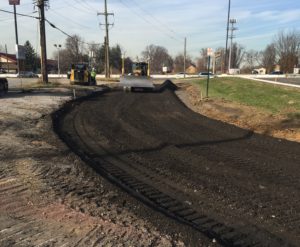 Current construction on the $94 million project (RC1) is the first of three PennDOT contracts (RC2, RC3) that will improve more than four miles of U.S. 1 from Old Lincoln Highway in Bensalem Township through Langhorne Borough and Langhorne Manor to north of the Route 413 Interchange in Middletown Township, Bucks County, over the next eight-plus years. In addition, PennDOT in 2014 completed $14.8 million in improvements at the U.S. 1/Maple Avenue Interchange in Middletown Township as part of their overall initiative to modernize and upgrade the U.S. 1 corridor in Bucks County.
With two through lanes of northbound and two through lanes of southbound vehicles shifted to the southbound (west) side of U.S. 1 from north of the Pennsylvania Turnpike interchange to the intersection with Old Lincoln Highway, work gets underway on the northbound side. Under this stage, workers will reconstruct and widen the existing northbound pavement and build the northbound side of three bridges: over Street Road, the Turnpike, and the Turnpike interchange ramps.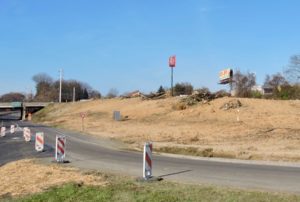 During northbound reconstruction this winter, crews will remove the existing northbound pavement, begin excavation for the project's stormwater drainage system, install and relocate utility lines, and demolish the east side of the three bridges.
Access to and from properties located on both sides of U.S. 1 will be maintained at all times during construction. Properties along the northbound side will be accessible via a right turn lane that will be established on the northbound side of the work zone or from Street Road. Properties along the southbound side of U.S. 1 will remain accessible via U.S. 1 or Street Road or the southbound ramp to Street Road.
Ramp Construction
Closure of the northbound side of U.S. 1 also will close the existing ramp from northbound U.S. 1 to eastbound Street Road, and the ramp from eastbound Street Road to northbound U.S. 1. The ramps will then be removed and reconstructed in coordination with the work to rebuild the northbound side of U.S. 1.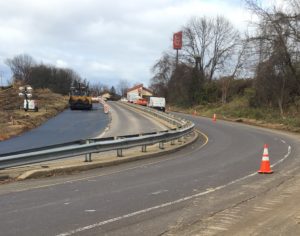 Traffic normally using these ramps will be directed to the existing ramps to and from U.S. 1 on the westbound side of Street Road. A temporary traffic signal will be installed at those ramps to facilitate access to and from eastbound Street Road.
The U.S. 1 ramps on the westbound side of Street Road will remain open as new ramps are built on that side.
Construction also will get underway this winter on replacement ramps to and from northbound U.S. 1 at the Turnpike interchange. These existing ramps also will remain open during Allan Myers, LP of Worcester, PA is the general contractor.
Reconstruction on the northbound side is expected to continue through early 2020, when operations will then shift to the middle of U.S. 1 before moving to the southbound side and ramps.
Alan Myers Construction, of Worcester, PA, is the general contractor on RC1.
CLICK HERE to read the Fall 2018 Construction Update.